Login
Forgotten your password?
Request a new one
here
.
APEC Weekend Norah Head ? 6 to 9 September 2007 by Ron Walsh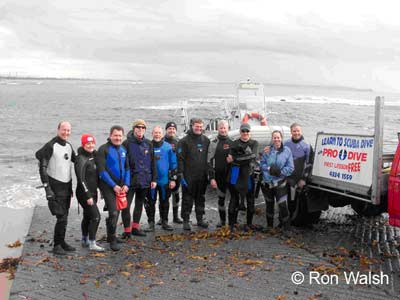 To escape the city closedown during the APEC weekend Michael McFadyen organised for diving on the Central Coast at Norah Head. Never having dived in this area I thought I better volunteer to go!

Car pooling with Dave Casburn, we left North Sydney around 3:30pm on the Thursday afternoon, negotiated the heavy traffic to Hornsby and arrived at Norah Head Caravan Park at 5:30pm.

After settling into one of the two cabins we headed over to the adjacent club for dinner and a couple of ales.

The weather was showery with SE winds so the forecast was not that good for diving.

By Saturday morning we had our contingent of divers ? Michael, Kelly, Dave B, Heinz, Robbie, Carina, Dave C, Paul W, Jason, Bram and me. After an early 7:30 am start and viewing the conditions (overcast with wind and seas choppy) a vote was taken and we decided to dive on the lee of a close-in protected rock called The Bull. We also decided that a second dive that day would not be happening.

Back at the cabins they soon resembled a dive shop ? washed dive gear hung everywhere! A lazy afternoon followed with some doing some shopping, others sightseeing to the lighthouse, before we headed to the BBQ area for nibbles and pre dinner drinks. Dave C and Kelly cooked a fabulous BBQ dinner, good wine was consumed and tall tales told. Back at the cabins we watched some TV, drank more alcoholic beverages and assisted Kelly with her crossword.

Kelly asked ?it is squid like, 10 letters, first letter C, last letter H?! After much merriment a sheepish Kelly was advised cuttlefish would probably be the answer. And this from the Prez of the club!



Sunday?s double dive was planned for 12 noon. Conditions early Sunday were reasonably favourable but by the time of our 11 am phone call that the boat was back at the boat ramp, had deteriorated. We loaded the boat in the pouring rain and headed to sea, deciding after a short distance that a dive at the Lighthouse Reef would be as far as we would be going and a second dive would be out of the question.

Back at the cabins we again washed gear, had a relax (a sleep for me!) before another nibbles and drinks and BBQ session. Saturday night we split the cabins between the Cowboys/Bulldogs and Manly/Souths NRL games and the France/Argentina and All Blacks/Italy Rugby World Cup games.

It was decided that no shore dives were going to be had on the Sunday as the seas had come up throughout the afternoon so members started heading for home from early Sunday morning.

Although conditions were not at their best the two dive sites we visited showed considerable promise and I think a return trip would be in order. A big thank you to Michael for organising and to all for making it a fun weekend.

Calendar
June

Mo
Tu
We
Th
Fr
Sa
Su

1

2

3

4

5

6

7

8

9

10

11

12

13

14

15

16

17

18

19

20

21

22

23

24

25

26

27

28

29

30

Tomorrow:
· Club Meeting - Rowers On Cook Club - Meet Wolli Creek (20:00)
Events


Click here for more

Showing next five events

Sydney Dive Site Hints
"SS Royal Shepherd is a very compact shipwreck"

Time in Sydney